Am I unlovable if I'm not pretty?
Kim Hye Jin (Hwang Jung Eum) was a pretty girl and her school's star. After hitting puberty her looks disappeared. Ji Seong Jun (Park Seo Joon) was chubby when she moved next to Hye Jin. They became friends and each others first loves, but they lost contact after Seong Jun moved. Now, they meet again but can Seong Jun recognize Hye Jin's changed self as her first love?
As this is a kdrama of course this won't be their only challenge. We have Min Ha Ri as Hye Jin's best friend who pretended to be her because Hye Jin was ashamed to meet her fist love, but fell in love with Seong Jun herself. Now, Hye Jin's coworker, Kim Shin Hyeok (Choi Shi Won from SuJu), fell in love with her and so the triangles begin!
Here's a picture to clarify the relationships in the drama.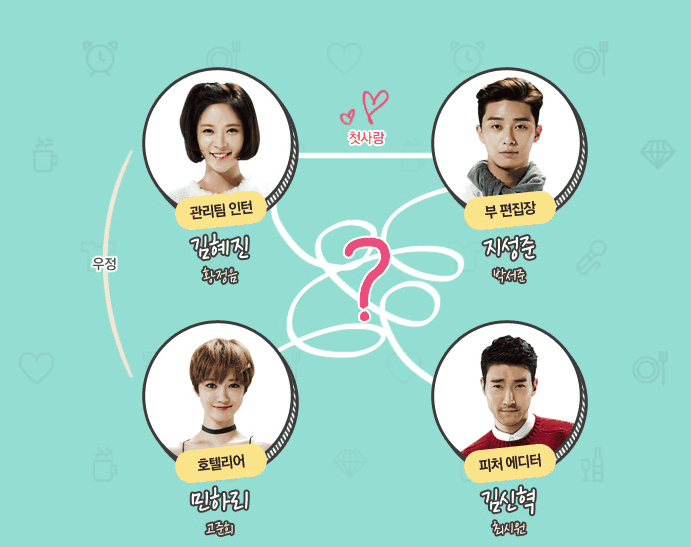 Now let's look at the characters and you'll get a better feeling of the drama 🙂
---
Kim Hye Jin (also known as Jackson)
Is played by Hwang Jung Eum, most people probably remember her from Kill Me, Heal Me. She playes Hye Jin a girl who loses her beauty. She a bit of a pushover but still a likable character.
Here she is before the make over that happens in the drama.
She gets her 'looks' back easily, but what I liked the most was Shin Hyeok's reaction. He is definitely the star of this drama. Hye Jin cares for her friends and co-workers and begins to slowly melt the heart of Seong Jun no matter how he tries to fight it. At first she thinks that her first love is completely gone but when she spends more and more time with Seong Jun she realises that the boys she fell in love with is still under his cold exterior.
Ji Seong Jun
Is played by the handsome Park Seo Joon, also from Kill Me, Heal Me. In the beginning when he appeared at the office I was shocked how differentially he treated everybody else and who he thought was his first love. At first I disliked him a lot because of it but because I usually do like the Kdrama jerks I think I disliked him only because I'm used to seeing him act like a good guy like in the dramas that I saw him in (Witch's Romance and Kill Me, Heal Me). It's good that he is trying something different but I still prefer him as the nice guy. I think that he is going to change as the drama goes on, so I'm not worried about his character because we can already see the changes happening to him.
Caught staring and more cute moments in the drama.
Positive thoughts here. After my initial amazement I did find myself laughing at him and even enjoying his tantrums. 🙂
Kim Shin Hyeok
Shin Hyeok is the cutie pie of the drama. Played by the forever-so-adorable Choi Shi Won he is, like I said, the star of this drama. I am loving his character so much that I want the writers to give him more time on air!!
Just look at him smile!
I have seen Shi Won act before as a similar character in King of Dramas and I loved him in it too and everything else he is in. I think that he is a wonderful actor and that this kind of foolish but lovable idiot is the role that he does best! Absolutely adore him ❤
But maybe I should say something about his character too?
Shin Hyeok is a character that has no worries. He lives his life laughing and dancing. People call him a weirdo but that just makes him laugh more. He is definitely eccentric and his favourite past time at work is to tease Hye Jin, who he calls Jackson because of her pants. He actually falls in love with Hye Jin too, and when she does her make over he actually pushes her to go back to the way she was because he liked her better the way she was! Aww!
You lovable weirdo, you 🙂
 Min Ha Ri
Played by Go Joon Hee, and she is the only one I haven't seen before. Her character is the one that pretends to be Hye Jin and falls in love with Seong Jun. Even though she is lying to her best friend, who she has known her entire life, and to the man she loves AND is completely unable to confess, somehow you can't get the feeling of hate from her. She is definitely not the angel in this drama but still she comes off as a very sad person and she is not happy that she is lying either.
Still, I don't like for lying to the two most important people in her life for so long. She should confess before things get harder for her and not live in the uncomfortable lie that she has created.
---
So why watch?
if you like rom-coms this is a good one. Even though the plot is mostly based on the lie they don't over use it (I mean the time) so you won't be bored.
Shi Won. If his name is not enough then just look at the adorableness of his character. Seriously, you'll regret it if you don't see him now as he is leaving for his military service after this drama finishes airing! (Tears flowing now…)
The combo of Hwang Jung Eum and Ji Seong Jun. They went from brother and sister to lovers in this drama and because Kill Me, Heal Me was such a big hit it creates pressure from the audience. I myself am looking forward to how their relationship will develop.
I think that the message in this drama is that you are still worthy even though you are not pretty!