This article contains spoilers so if you haven't finished the drama check out my Currently Watching; Lucky Romance article and finish the drama! 🙂
I can't believe that it's already over! 😦
Our adorable Je Soo Ho and Bo Nui had their happy ending, but what are we going to do? We want more! We can't just keep rewatching the same scenes over and over again, or can we?
So, to forever remember our Je Soo Ho and the sixteen sweet episodes, here are sixteen even sweeter moments from our tiger Je Su Ho!
Let's walk down memory lane and look at some of his cutest moments.
Episode 1
Who can forget the beginning?
Soo Ho tries to help the helplessly drunk Bo Nui to get safely home, but not everything goes according to plan. However, Bo Nui did find her tiger and we got our laughs!
Rawwrr!
Episode 2
Soo Ho's feelings got a little hurt that Bo Nui didn't choose to work at Zeze but at another second-rate company! Of course the solution is to go to her house to question her, but as she was waiting for another tiger and she pulls him inside to….
What should I call this? Arguing? Foreplay? Fighting?
Episode 3
This scene is without a question one of my favorite scenes from this whole drama!
Our super superstitious Bo Nui sneaks in to her new workplace to get rid of all the bad luck in the office, but she didn't know that the workaholic boss sleeps there.
"Y-You just saw something, right? Right, ghosts don't exist -Freud already proved that, it's j-just a hallucination… C-colliding with your self-defense m-mechanisms -there aren't ghosts in here…
No ghosts, there are no ghosts, no ghosts, no ghosts–AAAAAAAHH!"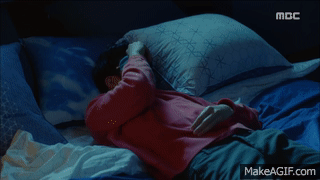 "Freud you said ghosts don't exist!"
Episode 4
The best scene of episode four was Su Ho poisoning his friend Ryang Ha. The two have just diagnosed Bo Nui to be dying because of the time limit she gave for her and Su Ho's dating. Ryang Ha heads for the fridge in Soo Ho's house and grabs a drink.
RH; "Oh, this is sour, what's this taste?"
SH; "Mom put it there."
RH; "When was the last time she was here?"
SH; "Summer…
Of last year."
At the hospital.
"You bastard, you're trying to poison me, to eat up all my stocks, but I won't die easily."
"So w-why would you just grab whatever you see."
Episode 5
Je Soo Ho is a little uncomfortable after Bo Nui trying to date him. After he notices her heading towards his office he acts "natural and smooth", at least according to himself.
Yeah, you're really natural…
Episode 6
Episode 6 had so many sweet moments for Su Ho that it's hard to pick one… He had started to care for Bo Nui, whether he realised it himself or not, and protects her from men and her own superstitions. The best scene combines these all;
Soo Ho suspects that Bo Nui is on her way to meet yet another potential tiger and decides to follow her. His attempts to disguise himself result in this;
Episode 7
Soo Ho is busy worrying about what to give to the sleeping Bo Nui at his house, but after a company dinner his employees are dying to crash his house. After solving the problem, he falls asleep next to Bo Nui.
Episode 8
Oh, episode 8, I love you. So many adorable, heart warming, squeal worthy scenes with our geeky tiger.
Bo Nui worries him so she needs to stay right in his sight, resignation letters, absences, not being able reach her everything is banned, the filming with Gary, back hug, worrying and chasing after Bo Nui only to end up staring at her, going with her to the hospital and promising to be her talisman…. Which one to choose!?!?
I have to choose this moment between Gary and So Hoo. Just look at his face;
Episode 9
At another company outing Gary and Soo Ho made a bet as to who would cross the finish line first with their four-wheelers. Soo Ho drove into a ditch, but not to worry as he is still the first to cross the finish line. He does look mighty pleased with himself sitting behind Bo Nui even though he drove into a ditch.
"If that thing called destiny really exists, then go ahead and save me."
Episode 10
Everyone remembers So Hoo's confession, the tiger necklace and the way Bo Nui turned him down. I was so worried for a while that Soo Ho would actually let her walk away, but thank you thank you for being a genius and chasing her.
Episode 11
This one doesn't really need any explanation.
SH; "Ugh, someone said you'd hear bells with your first kiss but I didn't hear…"
BN; "First kiss!? Isn't Amy your first love?"
SH; "I said she's not! Not! Who said that?! It's all a first for me! It was my first time confessing! First time holding hands! first time kissing– bluhbluhbluh!
So… Take responsibility."
Episode 12
This office romance is on fire! The two can't just stay away from each other 🙂
They are the first couple I see to have couple computers!
Episode 13
Soo Ho gets dragged away to a business trip but he can't stay away from his Bo Nui for long and actually takes an earlier flight to see her sooner;
"Are you not going to tell me until the end?"
"I miss you. So, so much. From morning to night. All day long. I want t see you so much that I could die."
"Then open the door."
"What did you say?"
"How long are you going to leave me standing? As if I could wait."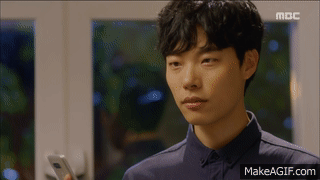 She jumps into his arms and they close the door. The next morning is just as sweet as the night was.
Episode 14
The negotiation for the days he gets to stay at Bo Nui's place, him getting kicked out of her room to sleep on the sofa, his amazing EQ for realizing that he needs to show Bo Nui that everything is ok even if they're together. He has completely changed from a workaholic robot to a perfect boyfriend for Bo Nui.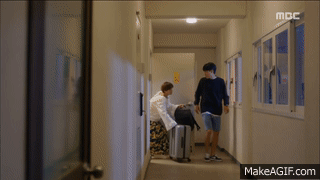 Even a genius can't always win… at first try.
Episode 15
Everything is going down hill… Bo Nui when you boyfriend gets hit by a car it's not logical to run away!! Please, my sanity cannot take this. I mean does it make sense that the best moment he had in this episode (if we don't count his scenes with Ryang Ha) was him breaking up with Bo Nui?!?
I'm not even going to gif this. I. Just. Can't.
Episode 16
The final episode….
"To me, Shin Bo Nui wasn't a knife but a light. When I was in trouble, she held my hand. When I felt embarrassed she made me laugh. when I was in pain she was with me. When I lost everything, she helped me believe that I'd be okay as long as I had her. With that light, I stepped out of the cave. Je Soo Ho survived because of Sim Bo Nui. Thank you, my love."
Now after even seeing this letter and how understanding and patient Soo Ho was towards Bo Nui I can't help but question why she left. During the year she was gone she didn't really do anything special; she lived on like normal but somehow she got better? And when the two met again, they hugged and wham, the year that had passed was like nothing; they went back to the way they were before they separated.
What is the point of this, my dear writers? You make us suffer through two episodes of cf this? I'm telling you nothing changed! Sigh.
Now I'm done venting, thank you.
So what did Lucky Romance have besides Je Soo Ho? It had Dal Nim and Ryung Ha.
These two were adorable! I was so happy that they got together in the end!
Besides their romance I loved the strong bromance Ryung Ha and Soo Ho had going on through out the drama. I will never forget Ryung Ha's fussing and crying every time something happened to his dear Soo Ho.
---
Je Soo Ho was dorkily devoted to his Bo Nui, adorable, cute, everything possible and him and Ryung Ha made this drama amazing for me. I'll even forgive the bad last episodes for them. Now let's end this with a little more Soo Ho!
"I'm Je Soo Ho. A genius."
---
How do you feel about the ending? Did you love Soo Ho or were you team Gary?